It's Play Time
Do you like online games? I tend to gravitate towards them when I need a little break. It's fun to sit down to a game of
Tetris
or perhaps some
Wordscraper
on
Facebook
. But, what I love even more, is the thought of taking a break to play these games and having it be worth while.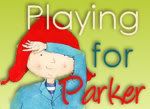 There's a little guy I've gotten to "know" through his
mom's blog
. Parker is a sweet little 4 year old with Down syndrome. He has been in and out of the hospital too many times in his little life. He's there right now - fighting for his life. And his parents? They are fighters too. But, they are under a lot of stress. Their medical bills are stacking up. That's where the games come in.
5 Minutes for Mom
is
sponsoring
the games. Click on the "Playing for Parker" button above or in the side bar (it's kind of buried in the side bar for now because Blogger is being psychotic... AGAIN) and a window will open. And then, another smaller window with a game will open and you can play. There are lots of games to choose from, the ones I've played have been fun, and the best part?
Every time
someone plays the game, money gets put into
Parker's
medical fund. It doesn't cost you anything to play... the money comes from the
advertisements
on the side. You just give a little time.
So, if you get a moment, head on over and relax. Solve a few puzzles. Enjoy a game or two and help out Parker and his family!